IFA is one of the biggest consumer electronics fair. We have visited IFA 2019 in Berlin and seen many interesting products. What to expect in Berlin IFA 2019? We have collected highlights for you.
Home Connect
We can tell you if there was only one highlight in Berlin IFA 2019, that would be Home Connect. Every device in the home could be managed by Home Connect app. We watched a nice enactment. In this enactment, a man has to prepare his home for a date. He was checking what is inside of the fridge from his app, ordering some food, commanding cleaning robot to clean the house. He was doing all of this with his app from work. Home Connect has integrated many different providers to its network so you are not stuck with only one option. They are going to release it next year, 2020.
Kitchen
Samsung presented robot arms which were helping to chefs in the kitchen. Samsung robot was controlled by voice control. Whenever it was asked, it was reminding chefs the recipe.It held a hot chili sauce, squeezed it and poured it to the food.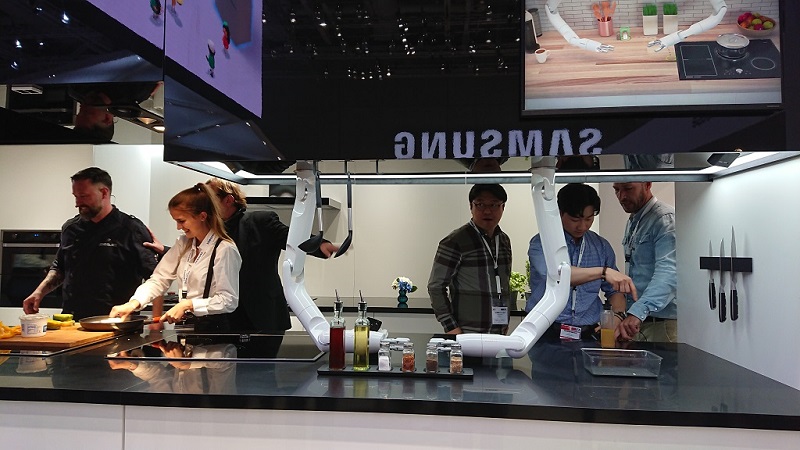 5G
We tested Telekom 5G with Huawei phone. We saw 280 Mbit/s download speed in Berlin IFA 2019. We disabled 5G and used 4G to see the difference. We could not go faster than 40 Mbit/s. Both Huawei and Samsung were actively presenting 5G phones in their booths. We believe 5G phones will be very popular in Germany pretty soon.
Foldables
Samsung Fold was another star of the Berlin IFA 2019. We had to wait in a long queue to see it. General impression was positive. We need to wait a bit to see if foldable phones are here to stay or just a temporary thing.
We want to talk about something foldable but you would not expect it to fold. LG presented a very cool TV which can go down and up. Audience was looking behind the TV furniture to see where the TV has disappeared. This was the most surprising thing of Berlin IFA 2019.